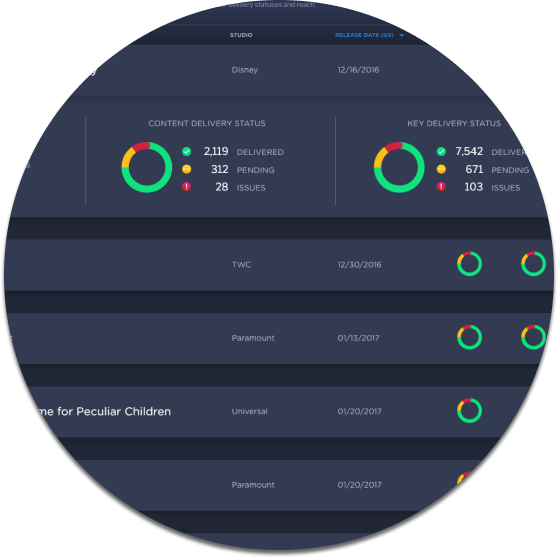 Showing Our True Colors with Deluxe Technicolor
While it's not hard to see just how much work goes into making a Hollywood blockbuster (try sitting through the credits some time), the second half of the movie experience is often overlooked. How do you get all those movies into every theater, in every state across the entire nation? Well, for almost as long as film has existed, that job has largely been left to a single company: Deluxe Technicolor.
Founded in 1915, Deluxe Technicolor specializes in video distribution, meaning they help movie makers take their films from the camera to the big screen. Of course, the movie industry has changed a lot over the past century, and with it, Deluxe Technicolor knew they had to change too.
The problem was how? While Deluxe Technicolor had the budget, they lacked the resources and time to design a solution. And to make matters worse, they were coming off a recent company merger, meaning stakeholders from both sides had conflicting goals for the future.
With an outdated digital presence, a confusing mix of online tools, and a tight deadline, Deluxe Technicolor needed some help.
And so they turned to SolutionStream
With so many moving pieces to identify and manage, our first goal was to understand how the Deluxe Technicolor machine actually worked. We facilitated a SolutionMap with their team and ours, spending four days in a room working to clearly identify their problems before discussing a solution. From there, we utilized our combined expertise to make innovative choices for Deluxe Technicolor's new product. We created UX designs to match their vision and goals, while also mapping out a project plan to fit within their timeline.
With little time to spare, we put our heads down and got to work. On route to delivery however, some of the project goals shifted, leading to an unexpected Agile challenge late in development. It took some quick maneuvering, but we were able to work with the Deluxe Technicolor team to
The closing credits
Our software solved their problems of digital encryption, key distribution, film scheduling, and theater management. Furthermore, we were able to include a white-label version to be sold as a service to Deluxe Technicolor clients who wanted their own branding. We are proud to have worked with the Deluxe Technicolor team to create the ultimate product to highlight their company vision. Not only is their data easier to access and manage, but it's all wrapped in a simple and beautiful customer experience.
"Complex systems don't require complex experiences. Big data doesn't have to be a big chore to maintain. The solution we delivered makes film distribution faster and easier to manage across the globe."

Jeff Ribeira

Senior UX Designer