The Brief
For over thirty years, Mōdere has operated under a simple principle: deliver a suite of health products that don't sacrifice performance for safety, or safety for performance. This commitment to clean label solutions and safety-checked components has served them well, but it hasn't always been smooth sailing.
In fact, one of Mōdere's biggest challenges came in 2013, back when they were known by a different name—Neways. While Neways offered products and services that were both safer and more effective than their competition, they weren't experiencing the growth they had planned for. The culprit? Their stagnating brand.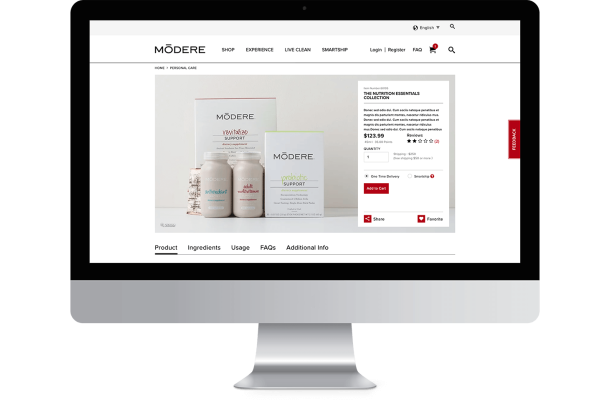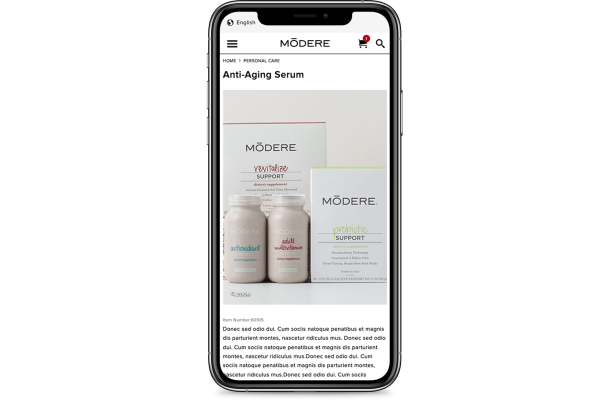 The Solution
In search of help, Mōdere reached out to SolutionStream, and as we always do, we started by carefully analyzing Mōdere's existing products and strategies. Almost immediately, our experts were able to identify several problems with their processes. Yes, their outdated UI and lack of social media tools were slowing their growth, but more importantly, they were missing a clear product strategy to guide their branding efforts.
Moving quickly, we worked with key stakeholders at Mōdere to establish which problems needed to be addressed first. We began to redesign all key portions of their system, both visually and from a process improvement perspective. Not only did we reshape their UX and visual structure, but we helped them refine their product strategy, all while managing this development against their legacy database.
SolutionStream implemented a complete overhaul of Mōdere's e-commerce platform. It's beautiful and intuitive, and behaves seamlessly across devices.
The Impact
In just three months, on time and under budget, the project was delivered, and Mōdere was thrilled. They now had something that truly highlighted their brand vision and focused on simple tools to make the customer experience exceptional. Only, it didn't end there.
You see, Mōdere is an international company, and it still needed to push its vision across 13 international markets, each with its own unique requirements and difficulties. Not one to back down from a challenge, SolutionStream continued to deliver all projects within cost and time estimates. Just as Mōdere has helped countless people to "live clean," we believe our partnership has allowed them to grow healthier as a brand and a business.